French Movie Night - Free admission
Wednesday, December 2nd
7:00 p.m., BAC 237
BABINE - with English subtitles
This is the story of a man called Babin and his fellow villagers : Toussaint Brodeur the Fly-tamer, a blacksmith in love with a widow from St. Barnabé who cheats on him with the Old Priest; Méo the hairdresser whose love for the bottle gives his customers strange hairdos; Madame Gélinas, who has been pregnant for the last two decades and who can't seem to make her cakes rise up anymore; the beautiful Anna Domini who has been crying her eyes out and peeling petals off daisies ever since her true love went to War; and, last but not least, Babin, the Witch's son, at odds with the strict New Priest. Discover the world of Fred Pellerin, a place where oxen can fall in love and where a clock can grow from where a pocket watch is sown.
C'est l'histoire de Babine et aussi celle des gens de son village : Toussaint Brodeur l'éleveur de mouches, le Forgeron amoureux de la Veuve de St-Barnabé qui le trompe avec le Vieux Curé, Méo le coiffeur qui maganne la tête de ses clients parce que toujours pompette, Madame Gélinas enceinte depuis vingt ans qui n'arrive plus à faire lever ses gâteaux, la belle Lurette qui pleure son amoureux parti pour la guerre et effeuille sans cesse des marguerites et, bien sûr, Babine, le fils de la sorcière, aux prises avec l'intransigeant Curé Neuf. Ce film, c'est l'univers de Fred Pellerin en images celui où un taureau est amoureux et où on sème une montre de poche pour y voir pousser une horloge.
____________________________________________________________________________________________________________
_______________________________________________________________________________________________________________
French Movie
French Movie Night
Wednesday, November 4th
7:00 p.m., BAC 237
MONSIEUR LAZHAR
While going through his own personal tragedy, Bachir Lazhar, a 55-year-old Algerian immigrant, is hired as a substitute in an elementary school after the abrupt death of a teacher. With great sensitivity and humour, Monsieur Lazhar depicts the encounter of two distant worlds : that of an immigrant and a group of shaken but endearing kids who, together, will transcend their losses.
Monsieur Lazhar is a 2011 Canadian French-language drama film directed by Philippe Falardeau. The screenplay was developed from Bashir Lazhar, a one-character play by Évelyne de la Chenelière.[2] The film was nominated for the Oscar for Best Foreign Language Film at the 84th Academy Awards.
With English subtitles
_________________________________________________________________________________
DANS LA MAISON is a French film directed by François Ozon. It is based on the play The Boy in the Last Row by Juan Mayorga. The film was awarded the main prize at the 2012 San Sebastián International Film Festival, the Golden Shell, as well as the Jury Prize for Best Screenplay.
A sixteen-year-old boy insinuates himself into the house of a fellow student from his literature class and writes about it in essays for his French teacher. Faced with this gifted and unusual pupil, the teacher rediscovers his enthusiasm for his work, but the boy's intrusion will unleash a series of uncontrollable events.
Louis Cyr (born Cyprien-Noé Cyr, 11 October 1863 – 10 November 1912) was a famous French Canadian strongman with a career spanning the late 19th and early 20th centuries. His recorded feats, including lifting 500 pounds (227 kg) with three fingers and backlifting 4,337 pounds (1,967 kg), show Cyr to be, according to former International Federation of BodyBuilding & Fitness chairman Ben Weider, the strongest man ever to have lived.
The French Movie Night Series is back for the Fall 2014

Starting with

"Rien à declarer"

on September 17th, 6:30 pm in BAC 236
A Belge-Francophobe customs officer is forced to team up with a Frenchman during the elimination of the Franco-Belge borders in the 90s.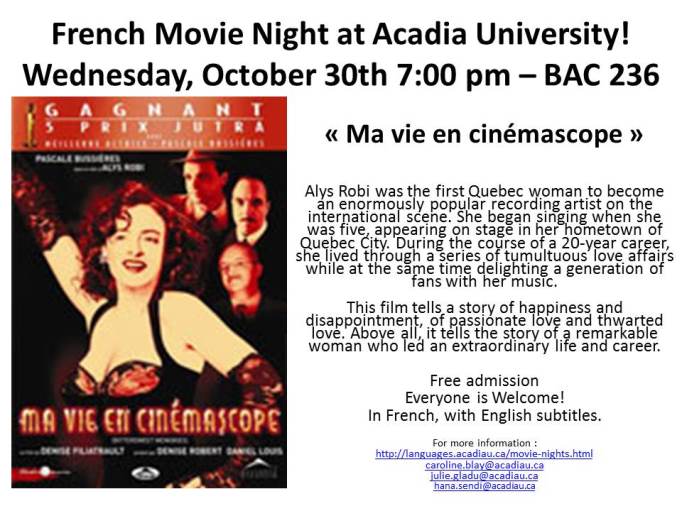 French Movie
---------------------------------------------------------------------------------------------------------------------------------------------------------------
The Intouchables (UK: Untouchable) is a 2011 French comedy-drama film directed by Olivier Nakache and Éric Toledano. It stars François Cluzet and Omar Sy. Nine weeks after its release in France on 2 November 2011, it became the second biggest box office hit in France, just behind the 2008 film "Welcome to the Sticks." The film was voted the cultural event of 2011 in France with 52% of votes in a poll by Fnac and has received several award nominations. In France, the film was nominated for eight César Awards and earned Omar Sy the César Award for Best Actor.
The plot: After he becomes a quadriplegic from a paragliding accident, an aristocrat hires a young man from the projects to be his caretaker.
Louis Tremblay, who is paid to threaten people with violence when they owe money, has always dreamed of being an actor. Even though his girlfriend, Suzie, doesn't approve of his job, he doesn't tell her about his acting aspirations because he's afraid she'll make fun of him. Suzie meanwhile, has a secret of her own — she's pregnant. Through his cousin, who works for a production house, Louis gets the chance to audition for a role in a film.
**********************************************************************************************
The riveting real-life travails of a Moroccan immigrant accused of murder on the Côte d'Azur are explored with emotional intensity in the French procedural drama, Omar Killed Me(Omar m'a tuer). This second feature from actor-cum-director Roschdy Zem (Point Blank) plunges the viewer into the highly publicized 1990s affair, which saw a man who many believed to be innocent suffer under a Gallic penal system unwilling to look beyond circumstantial evidence and racial prejudices. A mesmerizing lead turn from Sami Bouajila, plus a still-newsworthy subject matter, should grant Omar extended leave beyond France and Europe.

Beginning as a hard-edged depiction of children abducted in an impoverished African village and forced to become child soldiers, the story quickly expands into multiple layers from hallucinatory to familial. The journey is never easy for Komona, one of the abducted children, said to have magic in her because she manages to survive a barrage of bullets in a jungle ambush. However, director Kim Nguyen gives us far more than a film of hardship, with rich, detailed views of both African fighting and the daily life that goes on around it. Some of the characters still seem like archetypes, but Rachel Mwanza's performance as Komona beautifully carries us into all the different facets of Africa that Nguyen tries to explore.
**************************************************************************************
French Movie Night Season Fall 2012
French Movie Nights 2011-12
French Movie Nights